Customer focused features
Mobile-first design
Clear navigation
Relevant, enticing images
One-click reservations*
Easy-to-find menus
Click to call
Addresses that open maps
Newsletter sign-up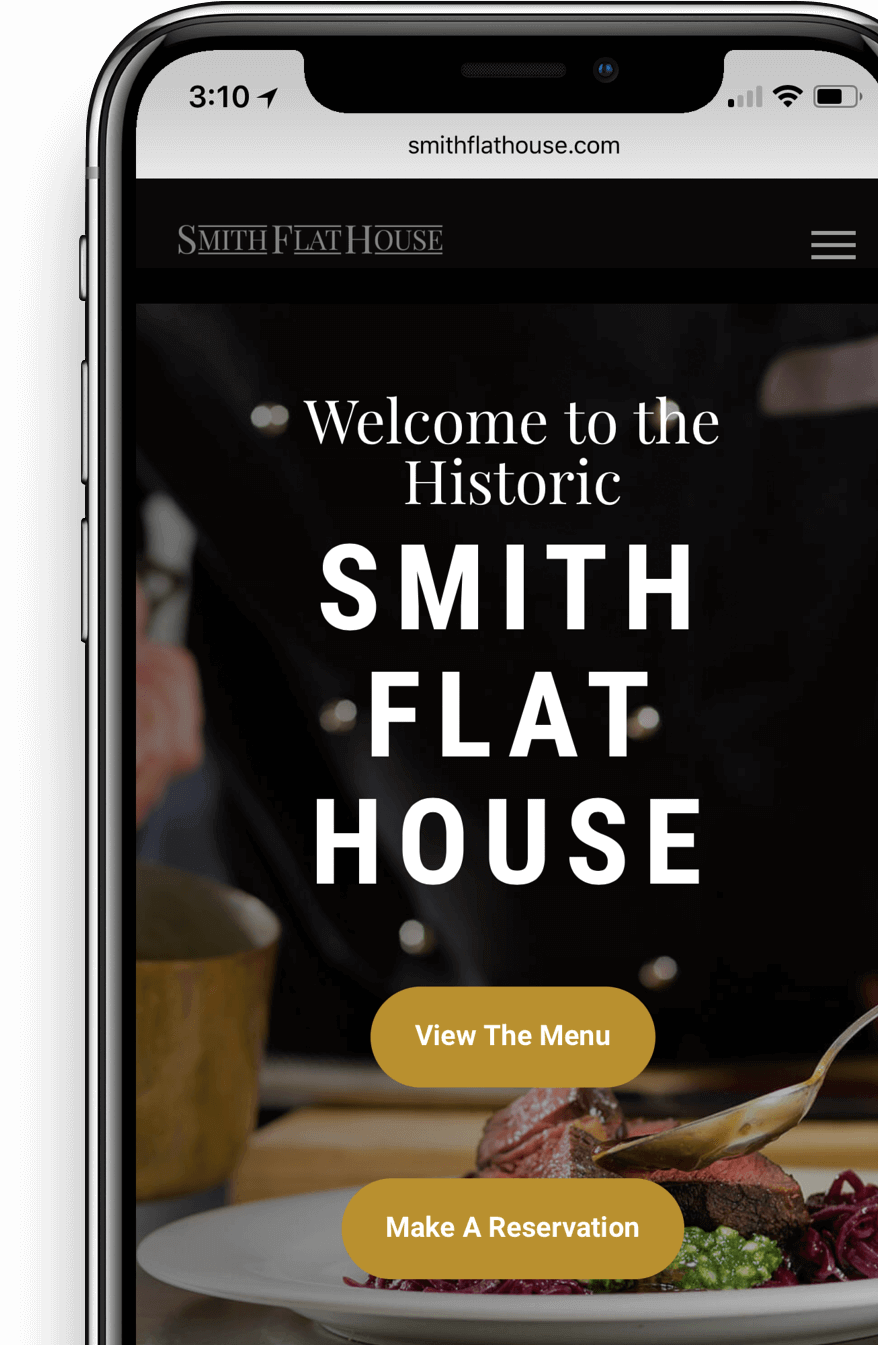 More increasingly hospitality is beginning online
Site Igniters offers restaurants beautiful, mobile-friendly websites that drive revenue and customers — complete with a simple, customer-focused management system, hosting and exceptional customer support.
More than 80-percent of American adults use a mobile device to find restaurant locations, hours and directions.
According to the National Restaurant Association, 83-percent of Americans look up dining locations, directions and hours of operation on their smartphones or tablets.
Site Management
Site Igniters is a dedicated team of WordPress professionals committed to keeping your website secure and performing at its best. We take care of the day-to-day tasks necessary to keep your site online, freeing up your time so you can focus on more important things.
Security
Did you know there are over 90k attacks on WordPress websites every minute? We can protect your site and fight off nasty bots and hackers with our advanced security tools.
Backups
Backups give you peace of mind against losing all your data. We will regularly backup your website, saving you time and money in the rare event your site succumbs to an attack or server failure.
SEO
While WordPress is a fantastic content management system for SEO, we can further optimize your site in line with best practices, giving you a better shot at organically landing on the front page of Google.
Performance
Research has found that decreasing your website's load time by just 1 second could earn you an easy 7% increase in profits. We'll help you achieve this with a faster, more reliable website.
Website Packages
Good
$

89

Per Month
1-3 page WordPress website
Responsive theme installation
One email contact form
Simple social connect
2 hours of design customizations
Includes 1 revision after delivery
Better
$

149

Per Month
4-8 page WordPress website
Responsive theme installation
One email contact form
Advanced social connect
4 hours of design customizations
Includes 2 revisions after delivery
Best
Recommended
$

199

Per Month
9-15 page WordPress website
Responsive theme installation
One email contact form
Advanced social connect
10 hours of design customizations
Includes 2 revisions after delivery
SEO Optimization
Branded social media pages
Gallery page with up to 12 pictures
The [si] Hosting Difference
Automatic Backups Stored for 3 weeks

Amazon High-Speed SSD Server

57 Layers of Security Protection & Weekly Scans

Add SSL Protection to lock down your site from prying eyes
Let's get technical.
Solid State Drives (SSD) gives your data the power to travel faster than ever before. Enjoy more throughput, more speed, and reliability all at once with our custom tailored solutions.
You want performance, and we deliver it! Improve your page load time by 100%. The special combination of AMAZON High-Speed SSD Web Server and cache technologies gives you exceptional quality fast cloud hosting.
Technology can be complex at times. Luckily our amazing tech team is available at all times at our Client Area. 24/7 Support is Standard with all hosting services!
AMAZON Hosting is one of the fastest growing brands in the industry. We owe this success to the thousands of customers who rely on us for services, and whom we rely on for referrals. It's a win-win for everyone.
Hosting that works for WordPress and Non-WordPress (HTML) sites.
Is your website still up? Status check of all websites every 15 minutes.
Each website is on a unique IP address for maximum SEO results.
5 reasons your local restaurant should have a great website
1. To bring in customers.
What's the first thing you do after driving by a restaurant that looks good? You want to see the menu and price list — hello, Google! But what if the restaurant doesn't have a website? Chances are, you end your search and move onto another restaurant to make your dinner reservation.
By having a website, you increase your visibility and the likelihood that people are going to become first-time customers. You can also use it as a way to engage customers and gather contact information from them. Use your site to keep loyal followers informed about events and menu specials. Local restaurants need to stay connected to people to bring them in the door.
2. To share hours and menus and take reservations.
A good website answers basic questions right away — menu, location, hours of operation, and reservation information are the essentials. You should also include contact information, methods of payment and social media links all in one handy location for everyone to see. People are more likely to look up a business online than to call in for information so put it out there! Including reviews or links to review sites on your website is also a great way for customers to offer feedback or preview the experience through comments from other customers.
3. To establish a local identity.
A well-designed restaurant website gives you the chance to show future customers what you're all about and who you are before they ever step foot inside. Entice diners with your menu and pictures of appetizing dishes, laughing patrons or busy chefs preparing meals. Showcase your ambience with photos of your interior, patio, bar or comfy private dining room. All of these give customers an idea of what they can expect walking through your doors.
Traditional advertising channels are no longer as effective as they once were; now it's all about word-of-mouth and online presence. People may be hesitant to try a place they've never heard of. A website is an easy way to assure them you offer an experience they'll enjoy.
4. To set yourself apart from others.
Competition is fierce in the restaurant industry. We've all seen restaurants come and go. You want to stand out from the crowd. What special things do you have to offer? Delivery service, catering, happy hours — a website tells people what you are all about. Let's face it, if you don't have a website in this day and age, people will quickly assume something is off. People tend to find the lack of website suspicious. I don't know about you, but I would wonder which other corners a siteless restaurant is cutting.
5. To create brand awareness.
Unlike national chains, most local restaurants don't have the luxury of launching expensive national branding campaigns. It's entirely up to you to get the word out. With more and more diners turning to the web at dinnertime, not having a website is like a front door without hours of operation. No sign above the entry, no curb appeal to invite people to come in. The world is moving at a fast pace and the number of internet users is constantly on the rise.
https://www.youtube.com/watch?v=4BfKFCOCJe8
A few examples of our work